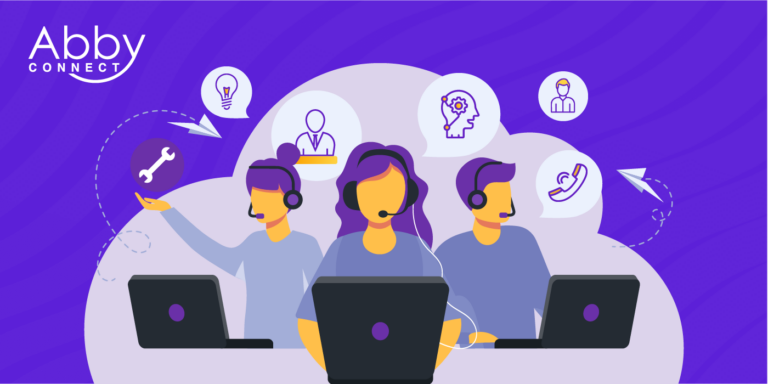 Over the years receptionist services have gone by a number of names and through a number of iterations—"answering service" and "virtual receptionist" being the most common. At different times in our history, we've called ourselves by both names. But Abby Connect isn't really an answering service or a virtual receptionist service. 
Or, you could say we're both + a little bit more.  
An answering service usually answers calls and takes messages for businesses. A virtual receptionist service takes that one step further, providing customized templates, live answering, and transferring. 
At Abby Connect we provide experiences that are even more customized, accurate, and human. Here's how: 
Small, Dedicated Teams vs. Popcorn Answering 
Most virtual receptionist services use popcorn answering. There could be 200-300 receptionists sitting in call centers around the world who could potentially answer your incoming calls. They'll receive the call and have the duration of 3-4 rings to get to know your business. Then, they'll use your scripted greeting and FAQs sheet to answer to your specifications. This has the advantage of guaranteeing your calls are answered, usually 100% of the time. But it has the disadvantage of providing limited context to the receptionists answering your calls. They simply don't actually know your business. 
At Abby Connect we provide small, dedicated receptionist teams for our customers. Instead of any random receptionist receiving your call, you get a dedicated team of 5-10 receptionists who answer for you. You still get the same 24/7 coverage and 100% live answering, but now it's from receptionists who actually know your business. This provides opportunities for advanced customization and feedback. In fact, you can actually see your receptionist team in the AbbyGo app. It's like getting 5-10 receptionists for a fraction of the cost of a single full-time hire.  
Based In-Office in the U.S. vs. Based at Home or International 
Virtual receptionist services are often based internationally in call centers or in the U.S. with remote employees. This can have two potential problems. The first problem is associated with international call centers. It's too obvious that they're not actually in your office. These centers have a bad reputation and can impact your callers' experiences. The second problem is associated with virtual receptionist services that employ remote employees. Without the quality control of an office—where the environment and technology aren't controlled—you can't guarantee a consistent experience.  
All Abby's receptionists are based in our Nevada offices where they have consistent, high-quality technology and a carefully designed environment to work in. With QA, training, and our leadership team in-house, we promise a consistent experience for your callers. Receptionists have direct access to their trainers and managers and consistently improve your callers' experiences as they get to know your business.  
Dedicated Support vs. A Traditional Call Center 
Virtual receptionist services usually offer customer support the same way they offer their receptionist services. You call in when you need something and reach a pool of customer service managers. One of them will answer and help you, then you'll be on your way. But the next time you call in, the chances are low you will reach that same CSM again. This means your experience won't truly be consistent and can't be proactive—since you only really interact with support when you need something. 
At Abby Connect we utilize the Abby Proven Process, which is a dedicated onboarding and ongoing customer service experience. We provide proactive support through a dedicated CSM so you get a consistent resource. Instead of calling into a pool of CSMs, you can directly message, email, or call your dedicated CSM for feedback, questions, or to make changes to your service. 
Superhuman vs. Human vs. Robot 
Receptionist services these days come in two main flavors: human answering and robot answering. The robot services generally can provide basic information on your behalf, take messages, and maybe even forward callers where they need to go. With human answering services, like most virtual receptionist services, a real person is answering the phone on your business' behalf. 
Abby Connect is a human answering service, powered by technology. Our service is human first with A.I. and the AbbyGo app on the backend to provide automation and quality verification. For example, while your receptionists are busy delighting your callers, Abby Artificial Intelligence is taking notes and eliminating human error. Essentially, you're getting the best of both—superhuman experiences powered by human customer service skills and modern technology. 
Proactive Optimization vs. Reactive Management 
Virtual receptionist services with popcorn support can only provide reactive management. That means you have to reach out to them in order to get support or improve your caller experiences.  
With Abby Connect, we don't believe in being reactive. Instead, we offer proactive support. With Abby Human Intelligence and your dedicated CSMs, your dedicated receptionist team is able to provide proactive ideas and feedback. Your receptionists are experts at answering your calls. As they notice trends and insights, they'll send recommendations directly to you. All you have to do is select yes, no, or yes with edits!  
Abby Connect: More than a Virtual Receptionist Service 
At Abby Connect we pride ourselves on providing a human-first service in a disconnected, technological world. We empower our receptionists with training and technology so they can provide your callers with consistent, excellent experiences. 
Experience the Abby difference for yourself.